Scroll naar beneden voor Nederlandse versie
Wanted: designer for positive impact
Are you that quirky designer who wants to contribute to a better future with beautiful designs?
The Terrace is looking for a super talented graphic designer with a sustainable ❤️ to join our team. We are a driven agency that is 100% committed to positive change 👊. You will work on various sustainability campaigns with national and international clients.
You will do this together with an ambitious and dynamic team in the heart of Amsterdam. As a team, we inspire clients to put sustainability at the heart of their strategy, and to inspire and activate their stakeholders through strong communication. In this way, they take on their role as drivers of the new economy.
About you
You have 2-3 years of working experience at an advertising/design agency 

Your work and intellectual level meets the standards of a higher professional education

Are fast with Photoshop, Illustrator, Indesign, but also with Sketch or XD

Know how to translate a strategy or concept in sketch form into a sparkling, visual presentation, corporate identity, annual report or campaign 🤩

Have experience in working together with the client

You have experience in working with an art/creative director and you can execute design projects independently

You can switch smoothly between projects and clients, are pro-active and remain relaxed in a dynamic environment with deadlines 🎢

Can bring our new corporate identity to life on and offline and monitor it

Have an online portfolio that blows us away 💨
We are The Terrace
We are B Corp and see business as a force of good. We are growing fast and are looking for reinforcement. We support brands in driving positive change in their organisation and sector. We combine extensive knowledge of complex sustainability challenges with the talent to translate that into meaningful strategies, implementation, and communication.
The Terrace has experience with clients in a wide range of sectors and has as focus areas: food & agriculture, fashion & textiles, the energy transition and circular economy. In the past 15 years, we have worked for more than 150 clients, ranging from large international companies and SMEs to NGOs and the Dutch government, such as ASICS, Albert Heijn, De Vegetarische Slager, Rituals, MVO Nederland, Ministry of Foreign Affairs and many others.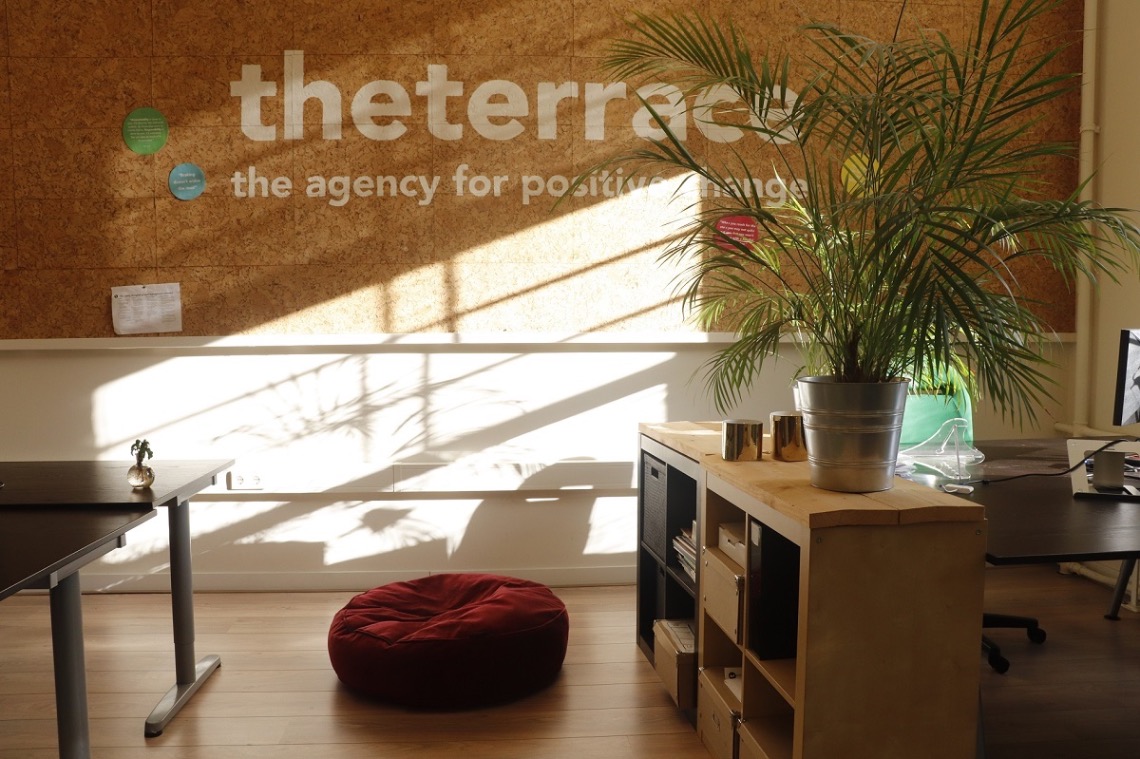 Good to know
You master the Dutch language almost perfectly, but the working language in the office is English 

We offer a contract for 32 hours per week for 7 months, after which we will look together at a possible extension

We offer a market conform salary based on experience with 25 days of holiday (based on 40 hours per week)

We have a nice, informal working atmosphere in a dynamic organisation that works with the smartest people in their field
Interested? 
Do you have all this in you and need to get it out because you want to make more impact, together with a sparkling team? Then we are looking for you!   
Write or draft your motivation and send it together with your CV and portfolio to our application page before May 23th 2022. 
Gezocht: designer for positive impact
Ben jij die eigenzinnige designer die met mooie ontwerpen wil bijdragen aan een groter ideaal?
The Terrace is op zoek naar een super getalenteerde grafisch ontwerper met een ❤️ voor duurzaamheid die ons team komt versterken. Wij zijn een gedreven bureau dat zich 100% bezighoudt met positieve verandering 👊. Je werkt aan verschillende verduurzamingscampagnes bij nationale en internationale klanten.
Dit doe je samen met een ambitieus en dynamisch team in het hartje van Amsterdam. Als team inspireren wij klanten om duurzaamheid in de kern van hun strategie te brengen, en hun stakeholders te inspireren en te activeren door sterke communicatie. Zo nemen zij hun rol op zich als aanjager van de nieuwe economie.
Over jou
Je hebt 2-3 jaar werkervaring bij reclame/designbureau

HBO werk- en denkniveau

Bent snel met Photoshop, Illustrator, Indesign, maar ook met Sketch of XD

Weet een strategie of concept in schetsvorm te vertalen naar een sprankelende, visuele presentatie, huisstijl, jaarverslag of campagne 🤩

Hebt ervaring in het samenwerken met art/creative director én je kunt zelfstandig designtrajecten uitvoeren

Kunt soepel schakelen tussen projecten en klanten, bent pro-actief en blijft relaxed in een dynamische omgeving met deadlines 🎢

Kunt onze nieuwe huisstijl die op de plank ligt on- en offline tot leven brengen en bewaken

Hebt een online portfolio dat ons wegblaast 💨
Over The Terrace
Wij zijn B Corp en zien 'business as a force of good'. Wij zijn hard aan het groeien en zoeken versterking. Wij ondersteunen merken bij het stimuleren van positieve veranderingen in hun organisatie en sector. Wij combineren uitgebreide kennis van complexe duurzaamheidsuitdagingen met het talent om dat te vertalen naar betekenisvolle strategieën, implementatie en communicatie.
The Terrace heeft ervaring met klanten in allerlei sectoren en heeft als focusgebieden voeding & landbouw, mode & textiel, de energietransitie en circulaire economie. In de afgelopen 15 jaar werkten we voor meer dan 150 klanten, variërend van grote internationale bedrijven en MKB-bedrijven tot ngo's en de Nederlandse overheid, zoals ASICS, Albert Heijn, De Vegetarische Slager, Rituals, MVO Nederland, Ministerie van Buitenlandse Zaken en vele anderen.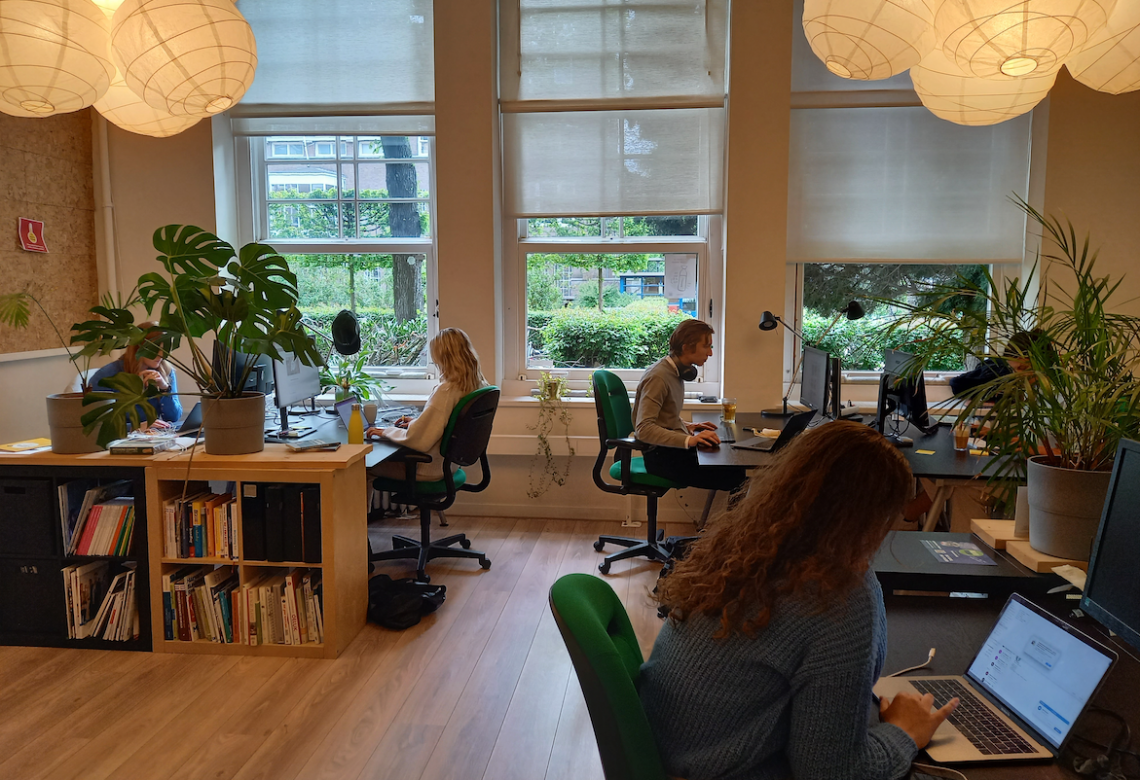 Goed om te weten
Je beheerst de Nederlandse taal zeer goed, maar de voertaal op de werkvloer is Engels

We bieden een contract voor 32 uur per week voor 7 maanden, daarna kijken we samen naar mogelijke verlenging

We bieden een marktconform salaris op basis van ervaring met 25 vakantiedagen (op basis van 40 uur per week)

We hebben een leuke, informele werksfeer in een dynamische organisatie die werkt met de slimste mensen in hun vakgebied
Interesse?

Heb je dit allemaal in je en moet het eruit omdat je meer impact wilt maken, samen met een sprankelend team? Dan zijn wij op zoek naar jou!
Schrijf of ontwerp je motivatie en stuur deze vóór 23 mei 2022 met je CV en portfolio naar onze sollicitatiepagina.