BNO Zefir7: New Signatures
---
---
Stroom, Hogewal 1 - 9, 2514 HA, Den Haag
---
Photo: Hanne van Beers
New Signatures gives the stage to the most talented design alumni. Join us to discover the work of Hanne van Beers (ArtEZ Arnhem Product Design), Madelief Kok (HKU Graphic Design Media), Sanne Licht (ArtEZ AKI Enschede Crossmedia Design), Kaja Majoor (WDKA Illustration & KC) + Diederik Smulders and Alice Vink (KABK Graphic Design).
Speakers
Hanne van Beers, ArtEZ Arnhem Product Design
Sleeping is not as easy as it sounds. Many of us suffer drom insomnia and many physicians prescribe pills to solve the problem. Hanne van Beers graduated at ArtEZ Product Design in Arnhem with a new kind of functional product: bedding that serves as a kind of mental reference to help you doze of. She cooperated with sleeping experts and she knows what it means to stimulate drowsiness.
Madelief Kok, HKU Graphic Design Media
Kok uses graphic design and 3D art to connect the physical and digital worlds. Her work spans various fields, including brand identities, editorial design, scenography, and installation art. Her graduate project Environmental Amnesia explores the impact of the digital world on our engagement with the environment.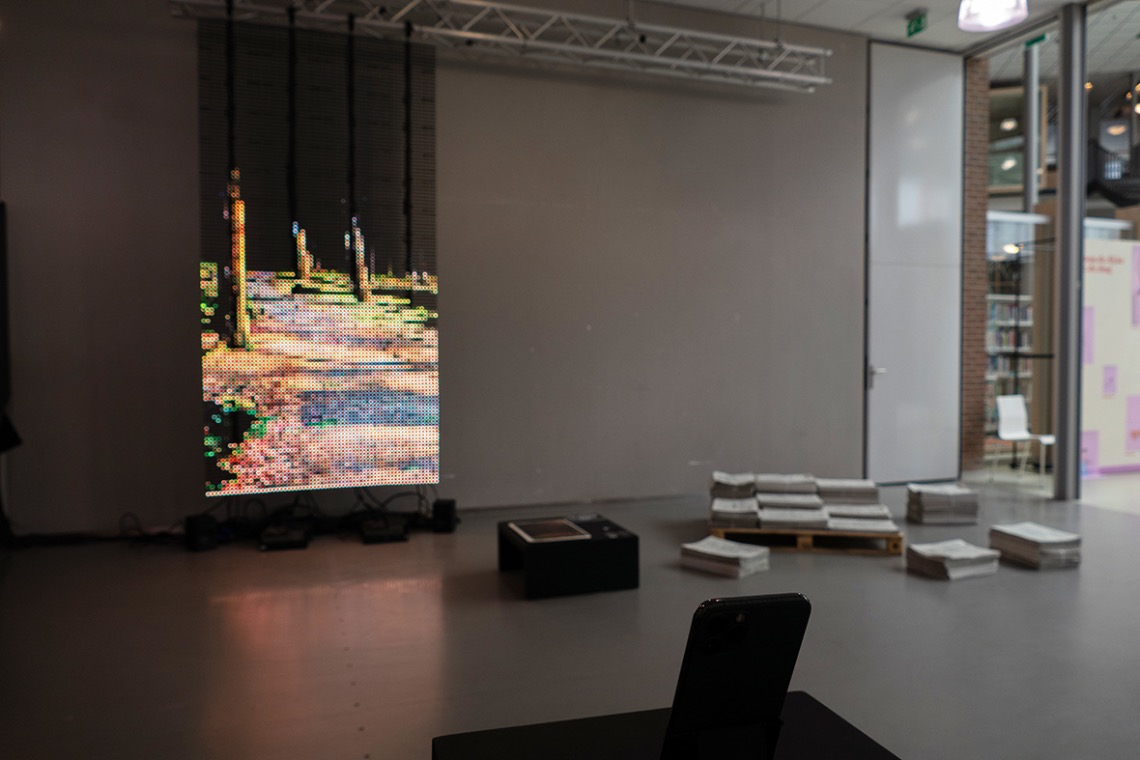 Photographer: Jonna Bruinsma
While the digital realm offers connectivity and expanded horizons, it also poses a risk of disconnecting us from the richness of our physical surroundings. Kok's installation focuses on the intricate details of nature, portraying fragmented environments. By examining the digital evolution of nature, the installation prompts us to reconsider our relationship with technology and the natural world, urging sustainable practices for future generations.
Sanne Licht, AKI Enschede Crossmedia Design
Licht's graduation project Evolved explores the possibility of artificial art beyond the creative abilities of contemporary artists, using the letter S as a starting point. After conducting analog experiments with various materials, including candle wax, glue, ice cubes, and even plants, Licht proceeded to create a preliminary study using polyurethane foam before transitioning it into the digital realm. Throughout this process, unexpected interpretations of letterforms emerge as technology ventures into the realms of recognizable forms.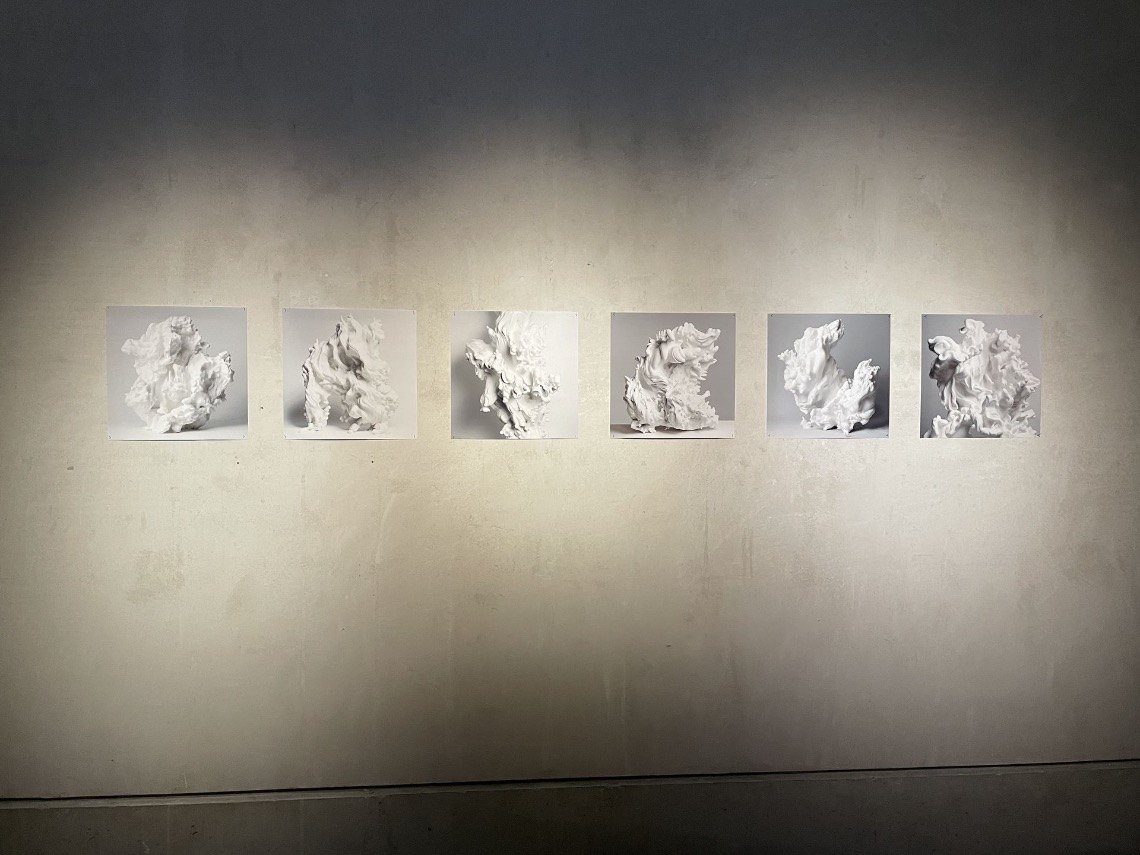 Kaja Majoor, WDKA Illustration & Royal Conservatory and cellist Diederik Smulders
Seeing Sounds is an interdisciplinary performance that explores the fascinating phenomenon of synesthesia through the medium of self-made graphic scores.
Illustrator and violinist Kaja Majoor and cellist Diederik Smulders are both classical musicians who share a passion for contemporary music and a fascination with performance art. They are combining these different art disciplines in the Seeing Sounds project.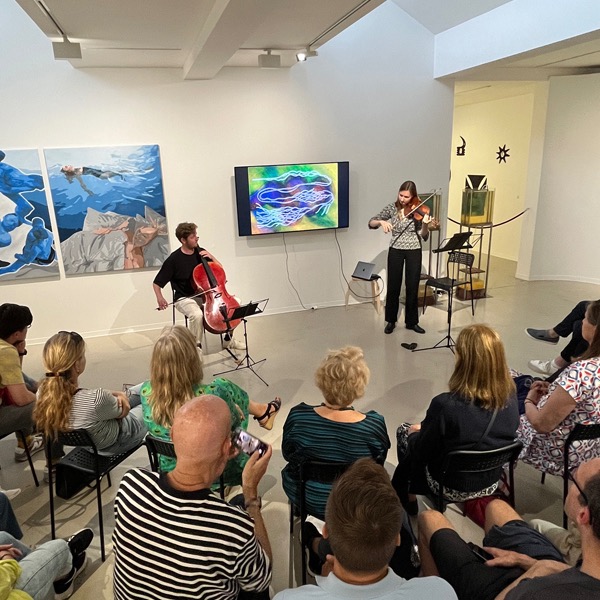 Foto: violinist Kaja Majoor and cellist Diederik Smulders 
During the performances, colours, shapes and movements are transformed into harmonious melodies and extraordinary sounds. The graphic scores are being projected on a large screen in order to give the audience the chance to follow both the improvised music as well as the graphic scores. This event offers an opportunity to explore the interfaces between music and art and push the boundaries of imagination.
With the project, Kaja Majoor investigates how graphic scores can be used to create visual representations of sounds, giving both synesthetes and non-synesthetes a chance to experience music in a multi-sensory way.
Alice Vink, KABK Graphic Design
How far are we willing to push the boundaries of technology to shape our environment?
This work is inspired by the stories of three ancient and (almost) extinct tree species – the Wollemi Pine, the American Chestnut, and the Judean date palm – which have become dependent on humans for their survival. Scientific methods such as cloning, genetic modification, and resurrection were needed to ensure these unique trees could continue to live. But are these really the same old trees, or have we inadvertently created a new species – a tree which is no longer free from human interference?
Taking this line of thinking to the extreme, this work gives a glimpse of a future where these trees have co-evolved together with their human counterparts into fully tree-human hybrids, with characteristics such as hair, bones, flesh, and even a heartbeat.
BNO Zefir7
Zefir7 is a monthly designers' café supported by the BNO and hosted by Stroom Den Haag. Send 'keep me posted' as a subject to this email address to receive announcements.
Tickets
Free entrance. There is a limited number of seats. First come, first serve. Doors open 19.30 hrs, start presentations 20.00 hrs.
BNO members get a free drink at the BNO Zefir7 evenings!