BNO Zefir7: Type on Tuesday
---
---
---
Every year in March Zefir7 aims to spotlight a generally rather invisible design topic: Type Design & Font Affairs. This year we start with the ultimate analogue stuff: a recently published book featuring the camera-ready artwork from Helmut Salden.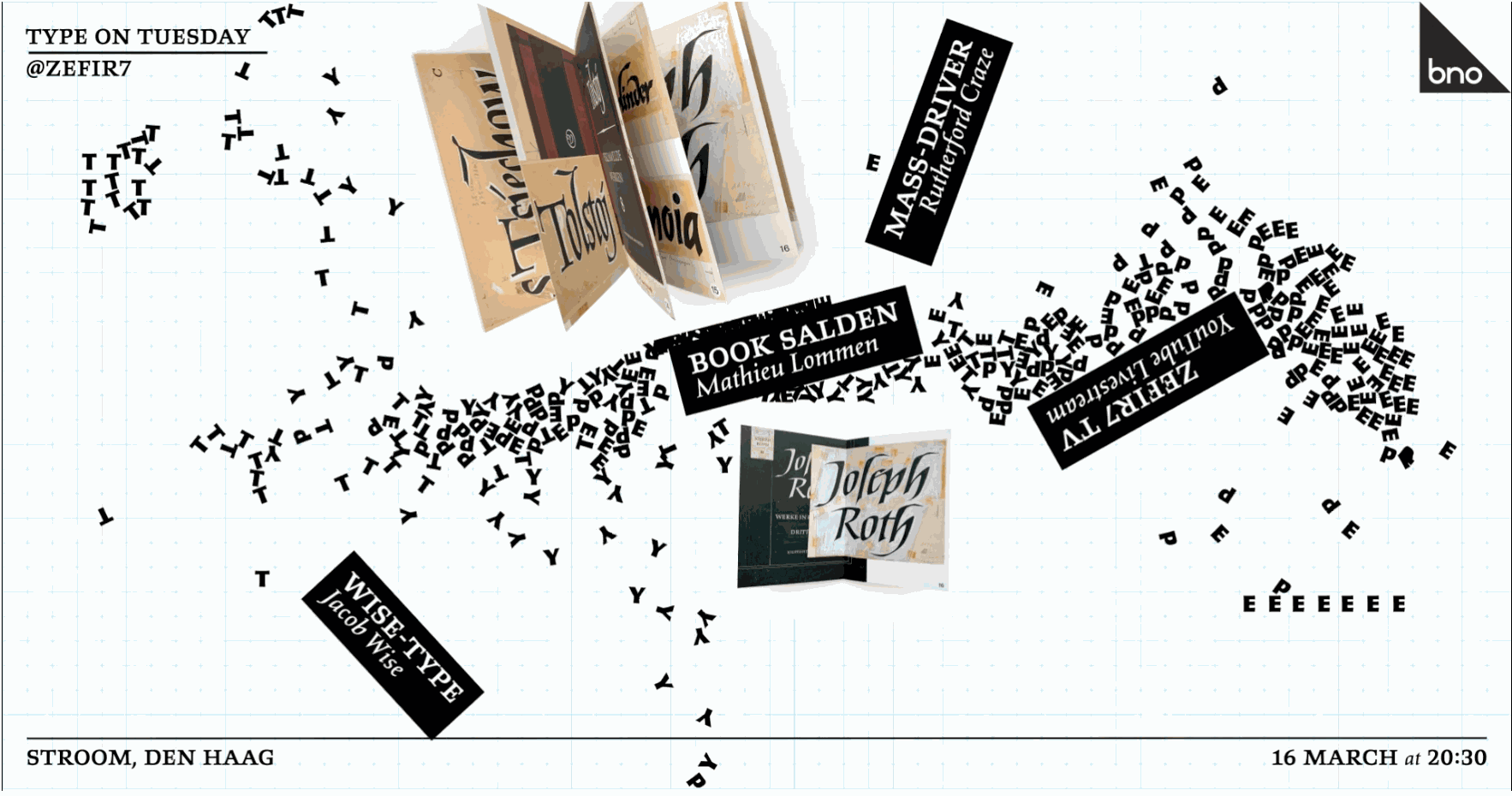 Speakers
///ANALOG TYPE///
Book: Helmut Salden Uncovered 1:1

Helmut Salden (1910–96), a German emigré, was the most celebrated Dutch lettering artist of his time. He specialized in book jackets and within this field displayed extraordinary virtuosity and versatility. Helmut Salden Uncoverd 1:1 features a broad selection of his jacket designs from his paper archive, including sketches for letters and camera-ready letter drawings. They are all reproduced at actual size and reveal in detail his pursuit of the ultimate form – with lots of opaque white – before the working process of Salden's mechanical art vanished into printed perfection.

The book is initiated and made by Mathieu Lommen, design historian and curator of graphic design at the Allard Pierson institute (UvA), and Karen Polder, designer of books and exhibitions for Dutch heritage institutes and museums.
///DIGITAL TYPE///

Font Affairs: Jacob Wise vs Rutherford Craze

JACOB WISE, a graduate from Kingston School of Art, worked at Munich based design studio Bureau Borsche until 2019. It was during this period he became further focused within the realm of type design, spending his evenings and weekends on his projects as well as building up a range of freelance clients within the cultural field.

Early 2019 he took the plunge to freelance on a full-time basis, moving to sunny Rotterdam. He is now in the process of alleviating his design schedule to allow him to focus further within the field of type design and where his true passion lies – slowly adding to and building upon his independent micro-foundry WiseType. If he can sustain a lifetime designing type, he will die a happy man...

A few of Jacob's recent projects include a custom typeface for the NBA basketball team The Utah Jazz and a new wordmark for the Crane Paper Company commissioned by Collins.

Currently he is in the final stages of rounding off his largest typeface family to date; a rational railway inspired san-serif named 'Saltburn'.


RUTHERFORD CRAZE is a type designer and programmer originally from the UK. After graduating from the Type and Media MA programme in The Hague, he interned at Fontsmith in London, before returning to The Netherlands to establish his own type foundry, Mass-Driver, in early 2020.

Since then, Rutherford has been working on new releases, software tools, and at least one custom typeface he's not allowed to talk about yet. He's also released two in-progress designs through the Future Fonts platform, MD Nichrome and MD IO.

Rutherford is currently in the process of finishing up his next typeface family, an esoteric sans based on a number of historical designs, under the working title of MD Trevithick.
Livestream
The livestream will take place on YouTube / digital doors are open at 20.20 hrs.