Our guest speakers will introduce you to their individual realms of typographic expertise. Both graphic designers with their own strong urge to make type act to their specific demands.

Edgar created Logical, a eight weight typeface which turns words into pictograms and icons when set. Johannes created dynamic choreographed typography for a virtual museum.
Johannes Verwoerd
How I became a shepherd and the words became sheep:
When I started working as a typographer I thought it was my job to put words and shapes into place with great precision. But I got bored with my own shapes and placements pretty soon. The fun came back when I started to create situations where things design themselves. So nowadays I just hang around and watch, doing as less as I possibly can. Just when words escape, I send my dog.

Johannes worked previously for Atelier Néerlandais, AVL Mundo (Atelier Van Lieshout), Centraal Museum, Elephant Magazine, Frame Publishers, Fries Museum, Gemeentemuseum Den Haag, Nederlands Letterenfonds, Stedelijk Museum Amsterdam and Stimuleringsfonds Creatieve Industrie.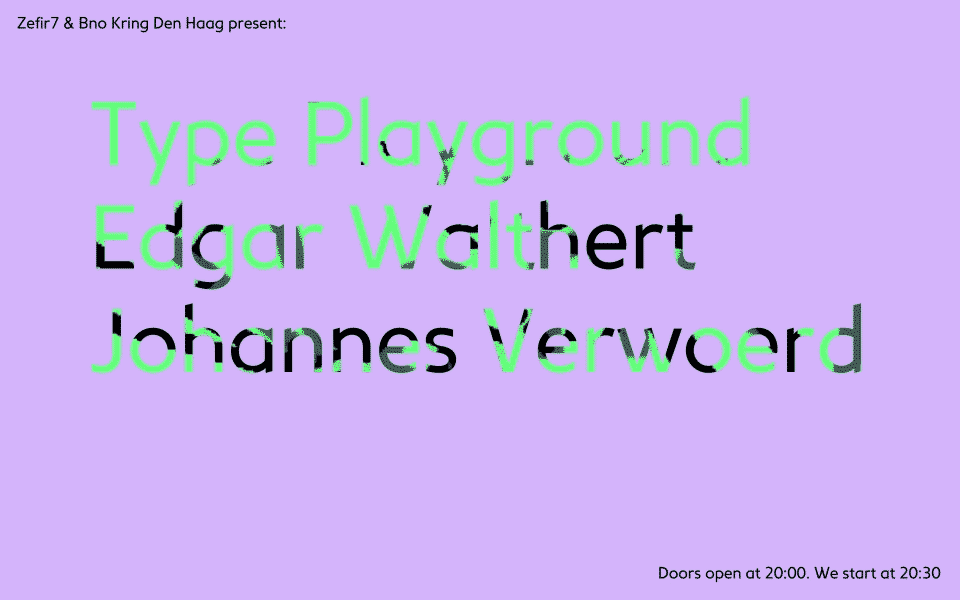 Edgar Walthert
Edgar Walthert's business card reads graphic- and type-design. The ratio of these two poles, however, fluctuates persistently though both are always in place and influence on another. This talk will outline how the interplay in Edgar's practice tends to blur the distinctions between these two disciplines in exciting ways.

With his graduation at Type&Media at the KABK, The Hague in 2007, he professionalized his passion for type and extended this experience with a placement at LucasFonts in Berlin.
Edgar recently released his new typeface Logical through Bold Monday and helped in the development of the new bespoke typeface IBM Plex. His design methodology is to reduce content into its most essential form without losing the impact of a particular message. This approach is clearly present in the set of icons that are included inside the typeface Logical. These icons express their most simplified shape without sacrificing their significance.
Diner voor BNO-leden
BNO-leden kunnen voorafgaand aan de lezing, samen met de sprekers en de organisatie, dineren tegen een gereduceerde prijs van 12,50 euro (incl. een drankje). Meld je hiervoor aan bij Jane Huldman. Het diner begint om 18.30 uur in Stroom.