Letterspace #30: Yuri Veerman
---
---
Grafische Werkplaats Amsterdam, NDSM plein 27, 1033 WC, Amsterdam
---
Doors open: 19.00 hrs
Start program: 19.30 hrs
Free admission & drinks!
Back at the Graphic Workshop Amsterdam, where posters with bold wood letters are printed and the operators are planing to build their own poster column, we like to talk about activist posters in public space.
In the last years, the most iconic placards around the city of Amsterdam are created by Yuri Veerman. Thanks to the project Who Owns The City?, initiated by designer and activist Ruben Pater, Yuri redirected his focus more onto poster-campaigns. Before that, his socio-political projects have used different mediums like Tumblr-blog, ceramic cups or performances.
We are keen to get some insights into the politics of 'wild-plakken' and his method of reducing complex topics into strong motives.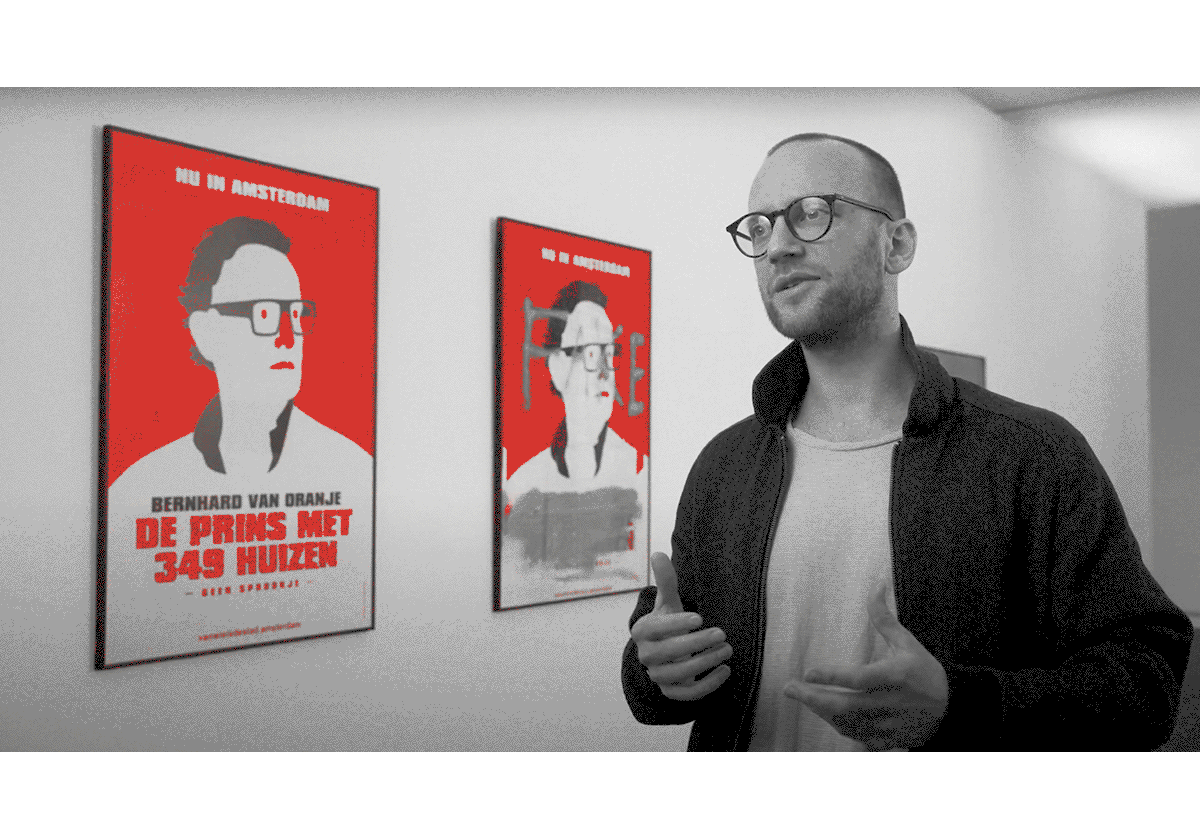 Gif: werk van Yuri Veerman
Yuri Veerman
Yuri Veerman is an independent artist & designer, based in Amsterdam. He studied Graphic Design at the HKU and did his Masters in Design at the Sandberg Institute in Amsterdam. Since his graduation at Sandberg, socio-political symbols — from a flag, a logo or a coin to the face of a prince or the price of a house — play a central role in his work. By taking these symbols out of their original context and giving them a seemingly simple twist, Yuri manages to turn a complex and slippery subject into a clear and iconic message. Ideally, Yuri throws his designs into the world, where they live a life of their own, and like memes, logos or symbols become a part of public discourse.
Yuri teaches Graphic Design at the Utrecht University of the Arts. In 2012 he co-founded Platform BK, an active think-tank for the arts in The Netherlands.
A middle and an end
Typically, a story has a beginning, a middle and an end, so from that point of view, a static symbol cannot be seen as an actual story. However, a symbol does have the potential to tell a story. In his latest campaign, Veerman turned a simple financial graph of housing prices in Amsterdam into a symbol that simultaneously referred to the housing market, as well as the squatting movement. This ambiguous symbol was the starting point of an ongoing poster campaign addressing the housing crisis in The Netherlands. 
For his talk at letterspace Yuri will dive deeper into his projects, and talk about the ideas and methodology behind his works.