YA Hello! #5 King Clients & summer drinks 16/7 @Clubhouse Marineterrein Amsterdam with *La Bolleur and **Boys Bier.

A free year of YA comes to an end; time to go out with a bang. First, we are organizing a great meeting for YA with La Bolleur about 'King clients', then we will party with BNO-members until the sun goes down.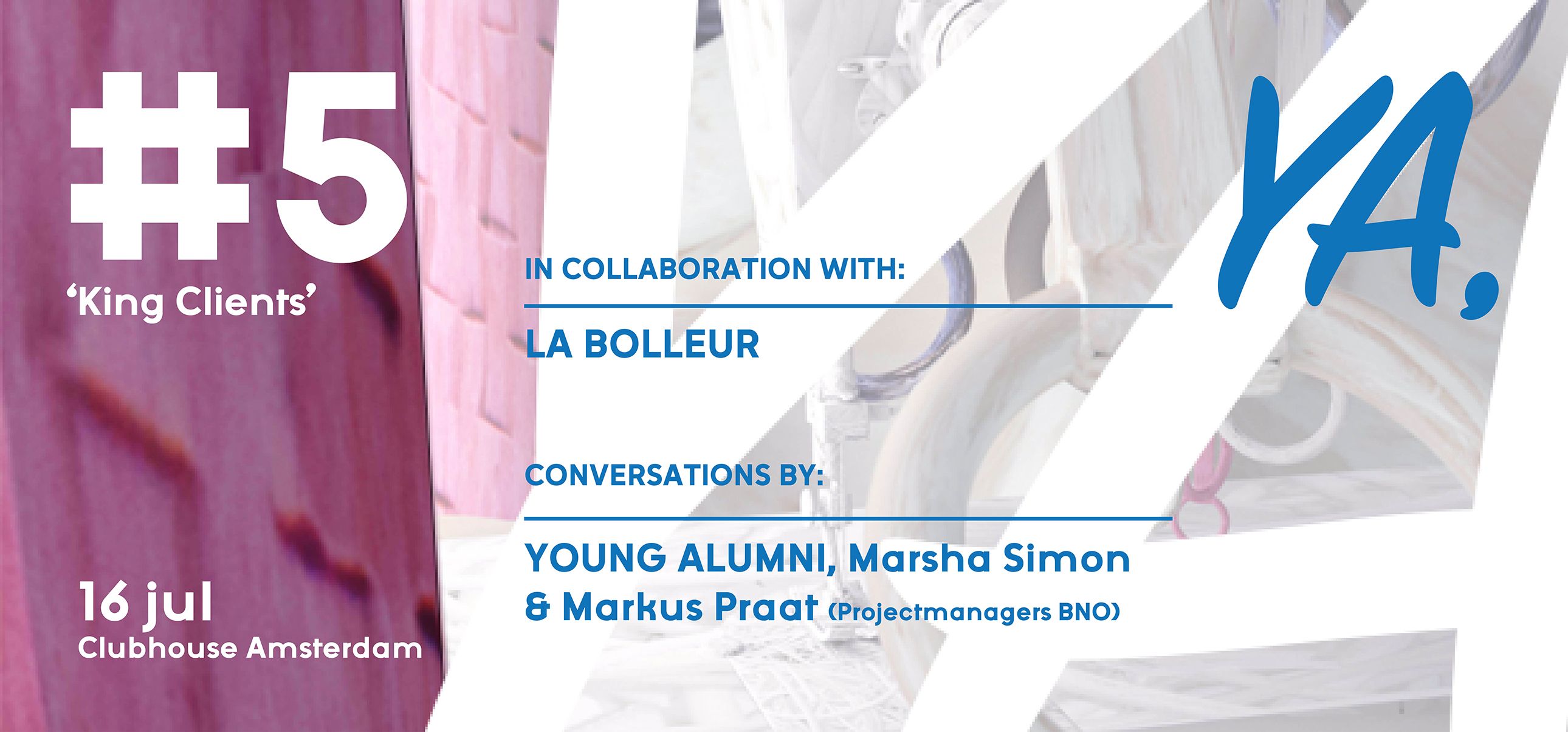 We will be discussing 'King Clients' with our Young Alumni from 2018: a conversation about finding cool clients, how to stay in touch and what good commissioning is. As a bonus, you can surprise your favorite (future) client by inviting them to join the conversation. The interdisciplinary studio La Bolleur will share their vision and best practices.

Without the help of BNO-members, the YA program couldn't excist. So afterwards, our members join and it's time for party! After a bite (patatje stoof!) we have come up with a program that will bring us into the night; guilty-pleasure-Spotify-bingo, DJ's and lots of drinks included. This is the chance to reunite, meet each other's favorite clients and expand your network. And have a little dance.

*La Bolleur is a multidisciplinary design studio, founded by a group of thinkers and makers that take having fun seriously. 

**Boys Bier. The boys of La Bolleur are serious dreamers. To serve our own friends and their friends in our clubhouse, they realized one of their dreams: their own beer brand.
Program YA Hello! #5 (for Young Alumni and their clients only)

17h00 - Doors open
17h15 - Introduction YA Hello! by BNO
17h30 - Short presentation La Bolleur
17h45 - YA, La Bolleur and BNO in conversation about King clients
Program summer drinks (for Young Alumni, BNO-members and their clients only)

19h00 - Simba (2hr set), Frietje (Vegetarian) Stoof & Spotify Bingo

21h00 - DJ Wessel (3hr set), Photo Booth moment
Till late