At Alrec we create powerful retail experiences that turn shoppers into lifelong customers. We know retail. Rethinking the retail experience characterizes our history and defines our future. As a full-service provider, we design, develop, manufacture and implement retail experience solutions. We deliver high quality brand store solutions, shop in shop systems and displays that drive a connected consumer experience and makes us the partner of choice for leading global brands.
Who are we looking for?
The design team at Alrec uses it's creativity to create in-store communication solutions that help our AAA-clients sell their products and/or promote their brand on the shop floor. Together with the 3D-designers and the multifunctional teams you will bring the whole shopper experience to life with eye catching graphics and digital content.
Graphic UX/UI Designer
Your graphic design proposals and UX/UI designs will seamlessly integrate into the corporate identity of our clients, but also into the 3D-designs of your design colleagues and will complement these designs to captivating in-store communication solutions that our clients will expect us to deliver. Your ability to dive into the identity of the brand and the unique features of their products will translate into immersive in-store shopper experiences that truly help shoppers understand the client's products.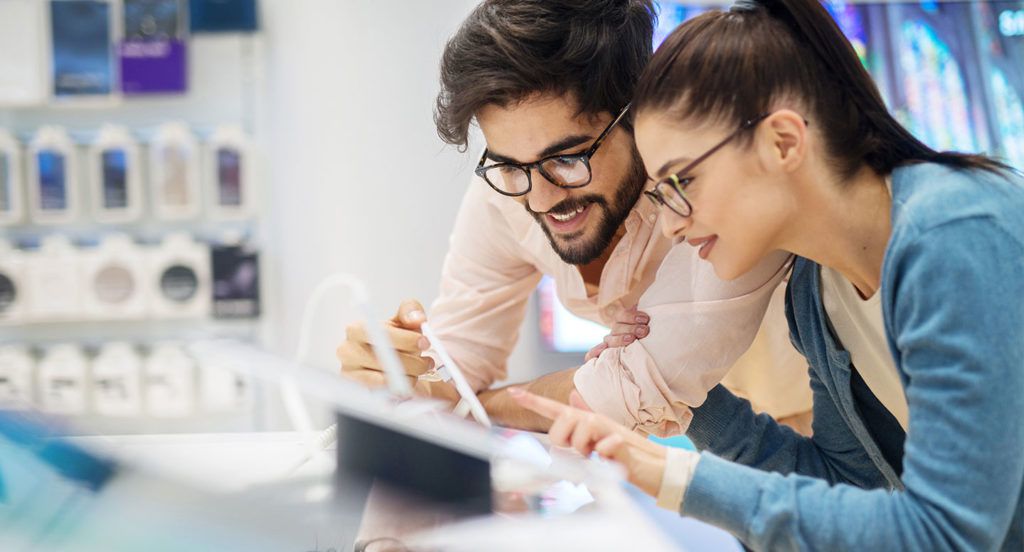 Key Responsibilities
You will design strong graphic solutions for both print as well as digital interactive (touch)screen solutions. Dependant on the client's requirements and the phase of the project you will sometimes develop complete communication concepts from the first ideation session upwards or you might detail the previously developed concept into artwork ready for publishing.
You are able to translate complex communication messages into clear, concise and captivating combinations of imagery and word. You are able to think on a conceptual level and you can spar with marketeers and designers on consumer behaviour. Based on the desired shopper decision tree as part of the whole shopper journey you create abstract UX wire frames that allow the shopper to browse product info, but just as easily you will translate a short briefing into a print-ready piece of artwork or an attractive sales brochure.
You are able to bring across your designs with presentations with well-conceived storylines and you will support your colleagues in Design and Sales in making graphically sound presentations with clear designed infographics.
If you have the ability or the desire to develop your skills in 3D-design  you can support the 3D-designers in detailing their furniture design proposals with additional units that fit the overall design concept or by making design visuals and design brochures of store specific shop lay-out proposals to present to retailers.
We are looking for a Graphic UX/UI Designer
With the talent to make beautiful and clear graphic content and artwork and who's hands are itching to apply this talent and start working for the biggest brands in the world!
That has experience in creating "clickable-demo-prototypes" (for example in Adobe XD or Marvel) and preferably also has experience in making 3D-animations and video-editing

That preferably has some basic skills in making 3D visualisations (3DStudioMAx), or who is enthusiastic in learning these skills!

Who has 2-3  years of working experience at for instance an advertising agency, digital agency of graphic design agency, so someone who is able to bring his experience instantly into practice within the team. Experience in design for retail is a bonus!


Who has completed a Bachelor degree in UX/UI design and/or Graphic design (like HBO-CMD or Art Academy – HKU)

Who, due to the international character of our clients, is fluent in English but also has no problems communicating in Dutch with the mainly Dutch team.

Who possesses a positive and flexible team spirit and who can independently oversee priorities under the pressure of working on multiple projects simultaneously.

Our values:
Commitment – Clients can count on our commitment and integrity. We will be responsible for delivering the best solutions and for relentlessly pursuing continuous improvements.
Passion – Retail is our passion. Creating powerful retail experiences inspires us. Finding the best solutions gives us energy.
Innovation – Rethinking the retail experience is what we do. We are always looking for smarter solutions, are on top of trends and translate them into meaningful experiences.
What We offer:
A challenging position within an environment where team work, initiative, personal development, co-operation and job satisfaction are the most important elements;


Excellent terms of employment including and in addition, plenty of development opportunities as well as working with some of the biggest and exciting global brands.

In case of questions on the nature of the work you can contact Arno Vrijman, Coordinator Design, tel. +31 6 29391130 or you can directly send in your resume + up-to-date portfolio and a short (but powerful and inspiring) personal statement to recruitment@alrec.com.