Interview door Anouk Stoffels en Jeanette van Tricht (BNO Zuid)
Platform BNO Zuid is gestart met een nieuw online concept: 5 Frames of Fame. In vijf vragen maak je kennis met bij de BNO aangesloten ontwerpers en bureaus die werkzaam zijn in het zuiden van Nederland.
Object Density is an Eindhoven-based design studio established by Nicola Charlesworth and Kim Stanek. Originally from Australia, the duo moved from Sydney to Eindhoven in 2019 to immerse themselves in dutch design culture while founding their studio.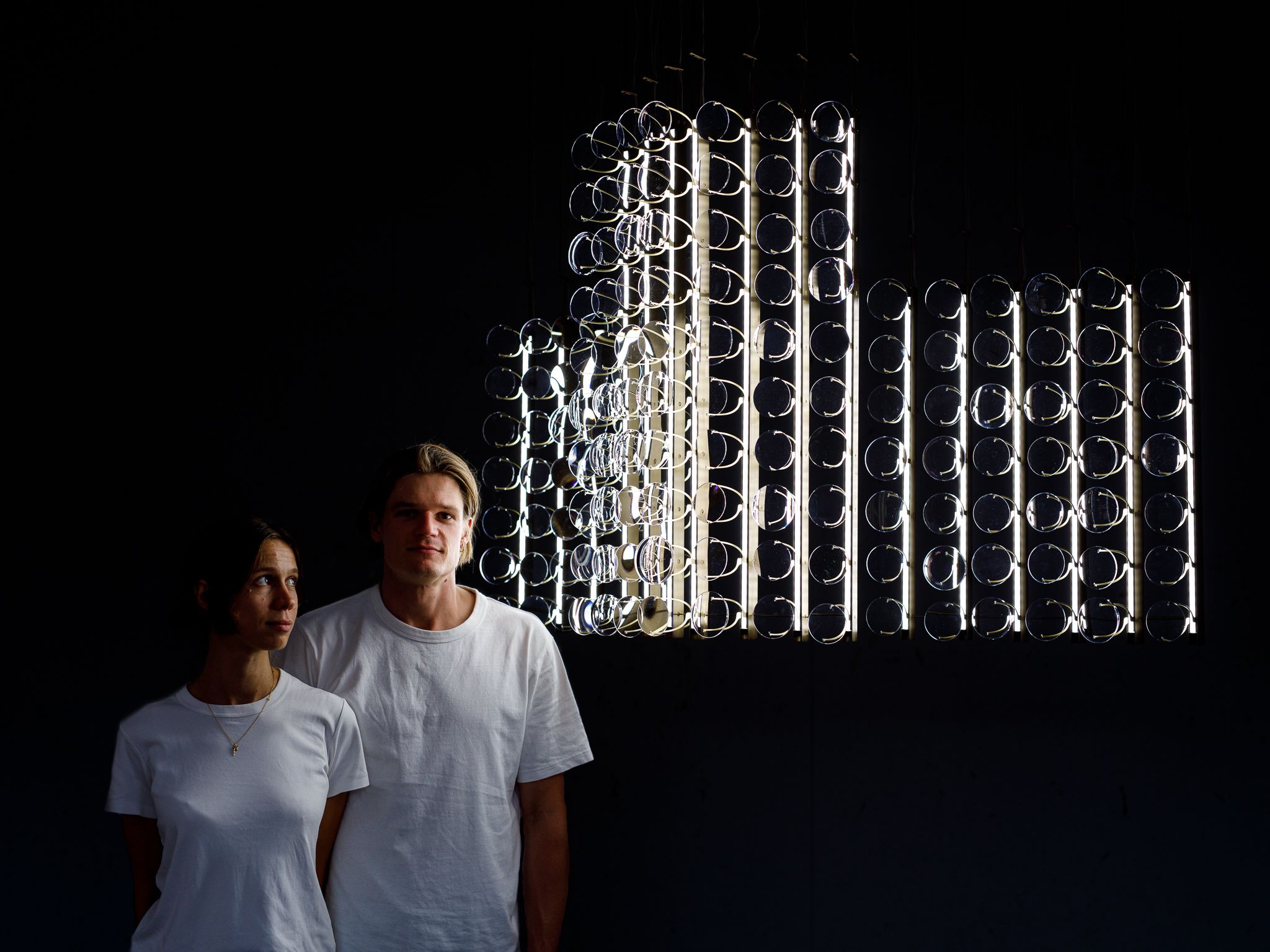 Nicola Charlesworth & Kim Stanek
They create artistic objects of use, drawing upon research and cultural narrative to communicate values of sustainability and community. Often integrating waste or discarded materials, they seek to reinstate value through conscious process and material decontextualisation. 
Through examination of object typologies, materials and processes of the past and future, Object Density believes that a designed object can be 'dense'. Dense with the tacit knowledge of those who contributed throughout the design process. 
9 to 5? What is a working day like?
Nicola: "A working day changed a lot over the past year. A couple of mornings each week I work for a designer in Australia. The afternoons and other days I have to dedicate to our work. Those days are very varied. At the moment it's a lot of production, making the boxes and designing the printed media for Object Rotterdam.
I work together with Kim, my partner. A couple of months ago he started working at Shapeways, a 3D-printing company. We can combine it perfectly with our making process.
And other times it will be concept development, especially working now with VANTOT, we spend a lot of time thinking about how we want to move the business forward." 
What does your workplace look like?
Nicola: "It really changes depending on the stage of the design process, when we have a lot of CAD work to do we come here to our studio. When we are prototyping or manufacturing we work at home where we have tools and a small workshop. This has meant we can continue our process during the COVID restrictions. It is also nice to be out sketching in other places when there is an opportunity."

From which project have you learned the most?
Nicola: "The Lens Luminaire project taught us a lot! It was the first large scale project that we worked on as a studio, where we started with a broad concept and no firm idea of where it would head. It was a great exercise in understanding our process, and validating it when the piece finally came together. Looking forward, this process of research into narratives, and an interest in materials is how we want to work in our studio.
A part of the process also is understanding the difference in producing one smaller prototype, versus making the full scale, or 300 iterations, it's a big difference. Learning about self production and practicality has also been a big learning curve. We have also learned to let the process guide our work. Sometimes you have an idea how a concept is developing, and then it goes in the complete opposite direction, we are still learning to trust this experience.
I think that both of us are strong at technical development and engineering of a product. Kim is stronger at the very early concept stage, while I'm often a more practical designer. We build the concept and bring it together. Kim is very good in the details and I'm good in looking for the overall form. Making the design studio together has really been an accelerated learning process in many ways - setting up a business and a life in a whole new country - everything needs to happen at the same time."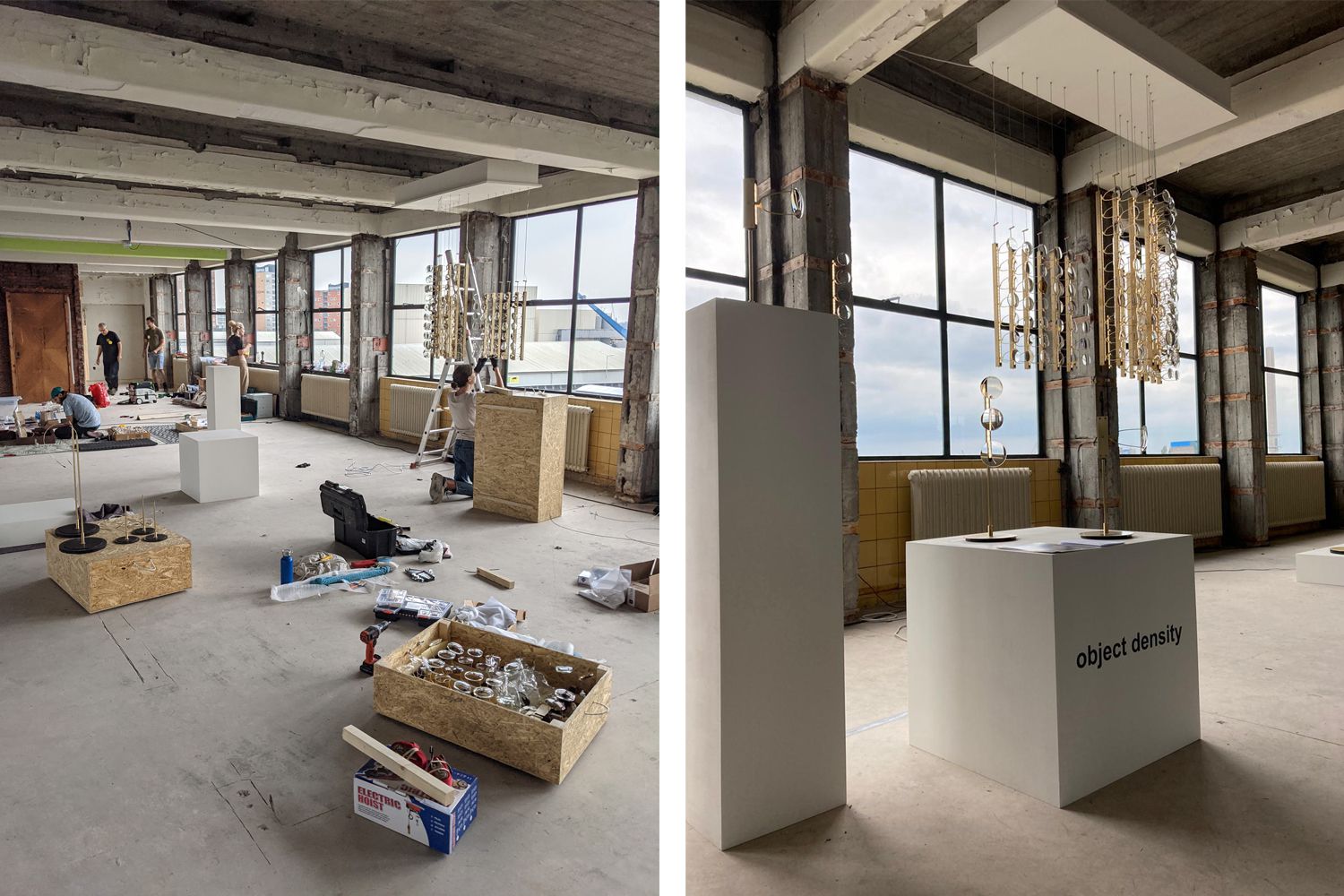 Hotspots, where can we see your work?
Nicola: "This week you can find us at Object Rotterdam. The object, Lens Luminaire you see on the picture was designed for the Dutch Design Week last year.
Another design project is the egg cups. A pair of stackable egg cups, made from recycled plastic. These are produced in Sparkling Plastic's workshop in 's-Hertogenbosch, so you can find us there when we are experimenting and producing.
Sometimes you can find us in the workshop at microlab, they have great facilities. We are looking forward to exhibitions in the future. Maybe the design week in Kopenhagen. We are also looking to other countries for galleries, it is an additional plan to work with dealers, that way we can focus on our design process and less on the commercialisation. 
We are looking forward to Object to meet people and other designers. To talk and make connections."

Film, design, what inspires you?
Nicola: "'The world around us, art and architecture, as well as the materials that we find. First we look into the material and explore what is possible. Our production and making process is small, we like to be involved in that part. We like to build a community around the project. When something is too global, I miss the personal connection.
We create small objects that are more accessible, and large objects that perhaps display a concept in a bigger way. To complement the larger pieces we plan to make smaller iterations so then it becomes an accessible object.'"
Do you do your own graphic design?
Nicola: "We do the graphic design at the moment ourselves but it's not our expertise. So that's also something that we'll try to move away from."