What makes a great Creative Director?
For many designers making it to the coveted role of Creative Director at a reputable agency is viewed as a 'dream job', and the realisation of reaching the very top of the career ladder. The truth is, only a select few talented individuals actually achieve this accolade, and when they do many find it hard to successfully transition from Designer to Creative Director.

Unfortunately, the ultimate Creative Director user guide, addressing the infinite number of new soft and hard skills necessary to triumph in this challenging role, has yet to be written. Until it is, the BNO Creative Directors Forum has opened its own black book to ask a number of Creative Directors from leading studios for their advice and top tips on how to make it.
This episode: Clare Styles, Creative Director and Founding Partner at Notable.
About Clare Styles
At the heart of Clare's work is a deep-rooted understanding of identity and brand expression amassed throughout her career from a deliberately wide spectrum of leading creative agencies. Prior to founding Notable, Clare was at Brand Union (Superunion) as Executive Creative Director where she was responsible for setting the bar for all of the agency's creative endeavors. 
Along the way, Clare has held roles at Wieden + Kennedy, Exposure, Fitch, Navyblue and Phaidon achieving a portfolio of award-winning work along the way. Beyond this, Clare helps support her industry as a guest lecturer at Universities as well as regularly fulfils 'Jury Service' for design organisations.

Tell us your own path from Designer to Creative Director.
"So, for me a large part of this journey all happened within one studio over a period of 8 years. Whilst, I'd had my first Designer role at Phaidon working alongside Alan Fletcher designing books. By far my most formative foray into the role of Designer was at a design studio called Navyblue. I took the designer job at their London studio which was a new outpost from their larger HQ in Leith/Edinburgh and as such had a lot of autonomy to establish itself in a new market. Culturally this engendered a 'small studio' culture where everyone who worked there was personally motivated to do 'whatever' it takes to make great stuff happen and have fun doing it.

For me this was the perfect environment to organically explore the boundaries of what being a 'Designer' meant but also what it could be. How far I could push my work creatively, how best to work collectively with other designers or creatives, learning how to think, create and express my work both for myself but also to an internal and external audience, understanding my preferred rhythm in managing my own time to confidently hit deadlines, understanding the influence everyone can have within studio culture and appreciating the importance of that shared role.

It was this environment and the trust earnt and given to me that allowed me to constantly progress in my career from Designer — Senior — Design Director — Creative Director — Board Member and Shareholder in both London and Edinburgh. And as your career evolves this is where you slowly realise that we're not just in the business of creativity (in its simplest form)."
What was the hardest part of the transition from Designer to Creative Director?
"There are so many 'pain points' that occur along the way, but one of the hardest things for me the first time I became Creative Director (CD) was the shift in focus from personally doing and creating the work (which is the reason I got into doing what I do) to spending much more time of my time overseeing and steering other people's work, which is complex in itself, but also being responsible for a much wider gamut of 'non-creative' tasks."

What specific qualities are essential to become a great Creative Director?
"This totally depends on what kind of CD you want to be — for instance there are 'great' CD's out there who have an astonishing portfolio of work but are terrible people and are horrific to work for or others that have built very successful agencies financially but are not necessarily the most creative.

There are so many but if I was to pick a top three, first and foremost I'd say to have AWARENESS — in all its guises. A CD's 'success' is dependent on everyone and everything that exists around them, so you have to constantly be on the lookout whether that's creatively, culturally, ethically or economically. When you are AWARE you can make deliberate and informed choices that shape the reaction you want to create. Whether that's re a project or piece of work, a member of your team, the business you work for or even a client. Next, I'd say INGENIOUS, looking and approaching 'things' differently creates much richer, and rewarding work and sometimes even more successful results. Lastly, I'd say RESILIENT. As a CD there are so many bumps in the road that come at you from all directions — it is inevitable that you have to take some knocks, but you just have to learn from them and remain upbeat."
The pros of being a Creative Director
Creating great work that creatives are proud of and clients love.

Building cool teams of people who really enjoy creating great stuff everyday.

Helping designers learn and gain confidence in themselves and in their work.

Being able to fundamentally shape all aspects of the business you are in.

Permission to provoke and try new things.
In your view what are the primary responsibilities of the Creative Director in an agency setting?
"To set the bar, creatively and culturally."

Describe your management style.
"Ooh, this is like scoring yourself out of 10! I'd say firm but fair with sprinklings of daft northern charm. As a rule of thumb people should be rewarded with what they deserve. My approach is to create a cool enjoyable environment that encourages, helps and inspires them do their absolute best."

How long did it take you to feel completely comfortable in your role?
"For me, it was a combination of circumstance and period of time for me to feel at completely at ease as a CD. My second post as Creative Director was easier, quicker because I joined the company as a CD rather than promoted into the role so on balance probably 2+ years. The caveat to that is, as a CD you are constantly being thrown into unknown territory which means you are sort of always recalibrating how comfortable you feel. Personally, whilst no one likes feeling uncomfortable — it's good for you."

Did you ever suffer from what's known as 'imposter syndrome'? If so, how did you deal with this?
"To be honest no as I've never seen or felt as though the CD role is definitive. That said, certainly throughout all stages of my career there have been moments of insecurity and nervousness — it would be weird for there not to have been."

What has been your biggest learning experience as a Creative Director?
"For me, I think we learn the most when we are most at risk and because I've never subscribed to the 'it worked last time, it will work again the next time' approach, I've learnt the most when I've opted to do things differently or seek out new challenges. Throughout my career I have always made very deliberate choices to experience different types of creative agencies to help gain a broader understanding of the creative landscape: Book Publisher — Design Studio — Integrated Agency — Advertising Agency — Brand Agency."

The cons of being a Creative Director
Being chief 'shit-shoveller'; in a commercial environment there are always tough asks/calls that you are responsible for.

No control of your diary, back-to-back meetings and travelling to meetings.

Losing a pitch is always felt as personal failure.
Is it important to set and adhere to a creative vision for the agency?
"Yes, due to the day-to-day intensity of agency life it's incredibly easy to lose sight of what's important and what helps differentiate you from others so having a plan helps you keep a sense check. That said, I do think you also have to be open to make changes to that vision if a great opportunity arises."

Should a Creative Director be hands on or hands off?
"There's no right or wrong answer for me as every individual has different ways of working as well as different circumstances within their agency. The most important factor for me in how I CD is to always allow the designer or design team who's working with you to feel as though they have the freedom to pursue how they see it and not just bring to life how you as the CD sees it."

What tips do you have for building and nurturing a healthy and vibrant creative culture within an agency?
"The most rewarding and vibrant studios I've experienced are the most open — where people are given the freedom to do things their way. I've always found people have different approaches and rhythms in their lives and their work. When people are constricted by processes, their environment or feel as though they are constantly being watched and judged it's to their and the works detriment. How designers manage their time and process is to a large degree up to them and as long as they've given their absolute best and haven't sold themselves or the work short then that's all I ask.

"Encouraging a culture where everyone has each other's backs is key"
---
Of course, this can only happen when there's a mutual trust and respect so it's key that people you work with not only understand what your expectations and benchmarks are, but that they feel that what matters to them also matters to you. Everyone's efforts are to be celebrated and recognised as helping build a brilliant business. Encouraging a culture where everyone has each other's backs too is key as culture is never about top down."

What tips do you have to continuously inspire creative teams?
"I tend to believe that good creatives are very self-motivated as all they want is to create great work, but you can help them do that by making sure they have everything they need to do so, i.e. a creative space, and enjoyable culture, permission to explore new ideas, ways or working etc. Providing variety and fresh challenges is also key — even the best designer will become stale if you keep asking them to do the same thing over and over."

How do you maintain your own creativity to ensure you remain on top of your game?
"Obviously there's the usual reference points that help keep us up to date with generally what's happening within our creative sphere but beyond that I've never been one for religiously pouring over other studios work especially during a project as it's too easy to be influenced. I enjoy seeking out or even accidentally finding inspiration in more random places. I absolutely love a happy accident."

How do you create a balance between giving your team creative space while maintaining overall responsibility for the creative output?
"The most important aspect of any work is the creative idea; this needs to not only be brilliant strategically and creatively but also meet all the needs of the client brief so I would always work closely with the team in establishing that. As a CD you never have all the answers, but you can share your accumulated knowledge, craftsmanship and skills to help make work the best it can be or worst case if needs be drag work from the jaws of impending disaster."

In your opinion what is the best way to give feedback on creative work?
"For me it's always about chatting through the work with the designer or design team to understand their thinking and approach. Then if there's something missing or not quite right etc. it's about provoking what-ifs to encourage them to explore further or in a slightly different way. It's really important for the designer to feel as though they are always continuing with their creative process and finding their own solutions."

How do you defend creative ideas to stop bad things happening to the work?
"Everything we do is informed by a sound strategic or creative rationale, so when a client is reticent then we are able to explain exactly why we've made that recommendation. It's key to try and understand every aspect of what it is they're struggling with — is it a business fear, is it a personal preference etc. — as this can really help provide you with the angle to understanding the barrier and how to resolve it. If needs be, we are always happy to take a step back with the client and explore further to help demonstrate why we need to pursue a direction.

That said, if a client simply won't respond to your reasoning and are fixated on what they want then sometimes, all we can do is respectfully just let them know you don't agree and flag the implications of doing so. Otherwise, you can find yourself second guessing creating work that you think they'll like rather than what's right for the brief or worse having to defend work you fundamentally don't believe in."
What has been your biggest success as a Creative Director?
"For me 'success' can be measured in lots of ways. My most 'successful' was when I said no to doing the expected agency Christmas card and suggested we open a store stocked with donated products/brands and experiences from our clients and our employees 'gifted stock' to raise money for Great Ormond Street Hospital. We made over £60,000 and bought them 4 life-saving incubators!"
What was the best piece of advice ever given to you as a Creative Director?
"Two pieces; Be you and do it your way. And pick your battles — the last one is always tough!"
And finally, what advice would you give to anyone who has recently been promoted to the role of Creative Director?
"Be patient and enjoy growing into the role. Oh, and never let the music or fun police into your studio."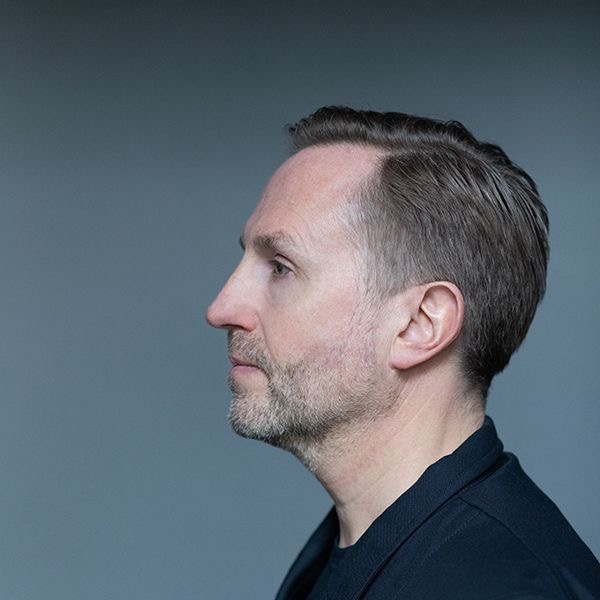 About Graham Sturt
A passionate advocate of Dutch design, he hosts an ongoing series of interviews with some of the countries greatest designers called 'Dutch Design Heroes'.