What makes a great Creative Director?
For many designers making it to the coveted role of Creative Director at a reputable agency is viewed as a 'dream job', and the realisation of reaching the very top of the career ladder. The truth is, only a select few talented individuals actually achieve this accolade, and when they do many find it hard to successfully transition from Designer to Creative Director.
Unfortunately, the ultimate Creative Director user guide, addressing the infinite number of new soft and hard skills necessary to triumph in this challenging role, has yet to be written. Until it is, the BNO Creative Directors Forum has opened its own black book to ask a number of Creative Directors from leading studios for their advice and top tips on how to make it.
This episode: Poonam Saini, Founder & Creative Director at KISS Branding, strategic branding studio, Leeds, UK.

About Poonam
Poonam is co-owner and co-creative director at KISS Branding, a studio that creates and transforms brands for the next generation, making them engaging and future-proof for new audiences. She is a young British South Asian CD, who at the age of 28 established a design studio with partner Matt Kilb that now successfully works with several major global brands.
Poonam's approach is about ruffling a few feathers, questioning the norm and disrupting the old way of thinking for the better. Frustrated by the way business and design studios have been run in the past, Poonam wanted to switch things up with a design studio that was human first. Working with viral brands such as The Pink Ladoo Project, South Asian Therapists or The Mac Factory, KISS Branding works on brands with purpose who want to make a positive change in some way.
A recent project Poonam is soon to launch is a grass roots project to disrupt and open the conversation about improving design education with KISS's Change of Arts platform.
Tell us your own path from Designer to Creative Director.
"I began my career as a junior designer and worked my way up to middleweight at Bulletproof. There I got to expand my skills across packaging, strategy and comms, working on major campaigns and brands such as Heineken and Coke with some of the best design directors in the world. But being curious and having a strong entrepreneurial urge, I really wanted to direct brands myself, so I did some side hustling with brands in my own time which gave me the confidence to set my own studio where I've gone straight into the deep end as a Creative Director."

What was the hardest part of the transition from Designer to Creative Director?
"Having to be clear on your vision before briefing your team. You have to be five steps ahead of the creative process to manage the direction of the project. I found this really hard at the beginning because I personally need time to process things at my own speed. Before being a CD I got so used to managing myself and my time it was daunting making that transition into managing and directing a whole creative team. Also being a co-founder means I've had to juggle both business thinking and creative thinking which can be quite intensive."
"You have to be five steps ahead of the creative process to manage the direction of the project."
What specific qualities are essential to become a great Creative Director?
Being open-minded to new ideas, allowing them the time to grow rather than culling unpolished or unusual ideas from the get-go simply because it's easier.

Articulating a clear vision to pass onto your team, even if it's off the cuff, to ensure the team is aligned on the plan going forward.

Provide constructive, meaningful feedback

Being supportive and providing positive reinforcement

Having clear articulation and good sales skills. You have to be able to flip between speaking to designers and to clients and clearly explain your feedback or reasons behind the design.

Also, you need to be able to sell creative ideas to the client.

Being able to see both the big picture and minutiae as and when required.
Tell us about some of the pros and cons of being a Creative Director.
"Being able to have influence on how a brand behaves and reveals itself to the world is such an amazing privilege; seeing how raw ideas come together in a blink of an eye and watching the creative team flourish is such a joy.
Another pro is clients really respect your viewpoint and trust you too which is such a positive reinforcing feeling that you know what you are doing is right.
However, it's a lot of juggling; to be able to jump between creative projects, managing them without burning out. There's a huge transition from working on your own, where you are left to cracking out the creative work to adjusting to a bitty workflow, jumping from phone calls, to meetings to crits to designing (which, yes, I still do myself)."
In your view what are the primary responsibilities of the Creative Director in an agency setting?
"Keeping creative momentum within the studio team, encouraging and inspiring, being that bridge between designer and client and leading projects from start to finish. But also being the person who designers go to for inspiration and a way through a rut."
Describe your management style.
"Easy going, open-minded, caring and visionary. I'm very anti hierarchy and encourage proactivity within the team, often asking to hear designers' thoughts and opinions. I avoid micromanaging so whenever possible I want to encourage the creatives to develop their own ideas and use their own best judgment.
KISS is highly human focused, so I have a huge respect for my team members as human beings rather than workers for the studio. I see my responsibility to support them and help them thrive in their own right, not telling them exactly what to do and how to do it. We're so privileged to work in a design studio so I want my team to feel nurtured, have a safe space to explore and grow and have the best time doing it."
"I'm very anti hierarchy and encourage proactivity within the team."
How long did it take you to feel completely comfortable in your role?
"Still working on that. I'm a young CD and it's a role I've dived into at the deep end rather than work through the ranks. Some days I feel like I'm on it and some days I'm just not feeling it and don't want to talk to anyone, which is tricky when you are in a leadership role. But I've realized that is a normal part of being human (we're not machines) and that's why fostering a team of strong independent creatives is vital. It also helps to have a solid partner (in my case Kiss co-founder Matt) with whom you can bounce responsibilities back and forth with.
Being a CD and a founder means you have to juggle being a creative and business owner; two totally different mindsets. But this makes my approach unique because I can bridge the commercial benefit of the design and still push disruptive creative ideas and manage to make sense of it so that both creative and clients are happy with it."
Did you ever suffer from what's known as 'imposter syndrome'? If so, how did you deal with this?
"Always. I think everyone does, especially creatives. Many CDs have worked for decades before entering their role and tend to have really high expectations so you often can feel you're not enough. Oddly, however, this feeling can also drive you to do some of your best work. When the imposter syndrome is at its worst, I try to remind myself that our clients really value what I have to say and the success we've achieved for them shows I'm good at what I do."
What has been your biggest learning experience as a Creative Director?
"Because I'm fresh to the role, everything I learn is a big one. But I'd say learning to manage my emotions and articulate my creative vision has been a big learning curve. I often get really frustrated with myself that I can't find the right words to describe what's in my head.
It's hard when you have such a strong vision and you can't see it manifesting yet in the creative work. So I've had to work hard to learn to steer and direct feedback that will make sense to the designers and not discourage them. What's cool is me and Matt pass the baton on, sometimes he is the CD and sometimes I am so that way we both can stay on top of the ball."
"Imposing your creative vision or style that doesn't fit for the client is a no go."
Is it important to set and adhere to a creative vision for the agency? If so why?
"Creative vision for the project Vs creative vision as an agency to me are slightly different. Creative vision for the project you absolutely need there to see the bigger picture and potential that the project could have in the world. However that potential still needs to answer the challenge the client has set. Imposing your creative vision or style that doesn't fit for the client is a no go. Creative vision as an agency is important so you collectively strive to always do better and push your potential as a team."
Should a Creative Director be hands on or hands off?
"Both. I always used to get annoyed when a DD/ CD would have thought and not show us what they meant and just keep giving us feedback that wasn't settling with the creatives. So if me or Matt have a thought we'll whizz it up and see if it inspires the team. Also, it's a bit frightening to lose all your creative skills if you just direct all day, but I suppose it depends what works for the studio structure you are in. Because we are a small team we can be very proactive. I always put trust in our design team to explore and play around then when it is best to I'll jump in to help."
What tips do you have for building and nurturing a healthy and vibrant creative culture within an agency?
"Allow team members to exercise what they love doing. So for example one of our team members is a Tik Tok queen and another is super inquisitive, digging out fascinating stuff to help a project along, so we unleash them at every opportunity. Also, let them get involved in other parts of the creative process like presenting or strategy, this will give them confidence and autonomy. We are hot hobbyists too, there's no stifling in our studio."
"We are hot hobbyists too, there's no stifling in our studio."
What tips do you have to continuously inspire creative teams?
"Having a diverse team from different cultural and economic backgrounds keeps things interesting. We love sharing new things with each other. It could be food, debating, news, podcasts, hobbies etc., all this opens up our eyes to different perspectives and interests. Also we're very active in encouraging all our creatives to go outside the graphic design world and explore from visiting new cities to reading to doing things in analogue."
How do you maintain your own creativity to ensure you remain on top of your game?
"For me working on a diverse range of projects enables me to maintain creativity. I'm a sucker for research and I love finding out new information, so every project we do we often involve speaking to lots of different people and reading a ton of insights which I love doing because that stimulates me with new ideas.
I would lose my mind if we only did one kind of branding. Also taking creative breaks away from the screen. I find taking long baths and showers or long walks away from screens helps inspire me because all the research is processing in the background and by the end of it I've got lots of ideas to work with."
How do you create a balance between giving your team creative space while maintaining overall responsibility for the creative output?
"To keep the team stimulated we introduced 'swapsies' in the studio. So we let everyone do their thing with their ideas and once they are fed up they swap their work with another team member including me which allows the creative work to be seen with a fresh pair of eyes and stops the designers being so precious about their idea. Which enables me and Matt to help steer the work if it's going in the wrong direction or polish off some raw thoughts. It's always a team effort, with a sprinkling of supervision."
"I would lose my mind if we only did one kind of branding."
In your opinion what is the best way to give feedback on creative work?
"Being diplomatic and articulating clearly feedback, good or bad and reinforcing why. But also everyone understands feedback slightly differently so tweaking your feedback that will help that person get it. Some like it written down, some like it verbally said to them some want to see an example of what you mean."
How do you defend creative ideas to stop bad things happening to the work?
"All our work is highly strategic and all the creative ideas have to relate to the strategic framework we've agreed with the client. So the designers ideas must come from that brand framework. If they can't connect the two then it's not a good idea for that brand. The best creative ideas for the brand are born from the brand soul."
What has been your biggest success as a Creative Director?
"So many successes happen as a CD from the micro level to major. There's not just one because it genuinely feels like every day is a success. But if I had to narrow down being able to lead a creative team successfully through a new project has been my recent success as I had never done this before until this year."
What was the best piece of advice ever given to you as a Creative Director?
"My own realisation, trust your inner creative gut."
And finally, what advice would you give to anyone who has recently been promoted to the role of Creative Director?
"Be okay with not always having the answer straight away — you can always say give me 20mins and I'll come back to you. In your crits give all your focus to the chat instead of worrying about all the things you need to do. Make sure you get visual rest so you aren't over stimulated and that way you can be excited about the project. Always celebrate the small to big successes of the projects with your team. Be you, don't try to fit in the CD mould, bring your own flavour to the role and set new positive standards instead of doing the same as the person before."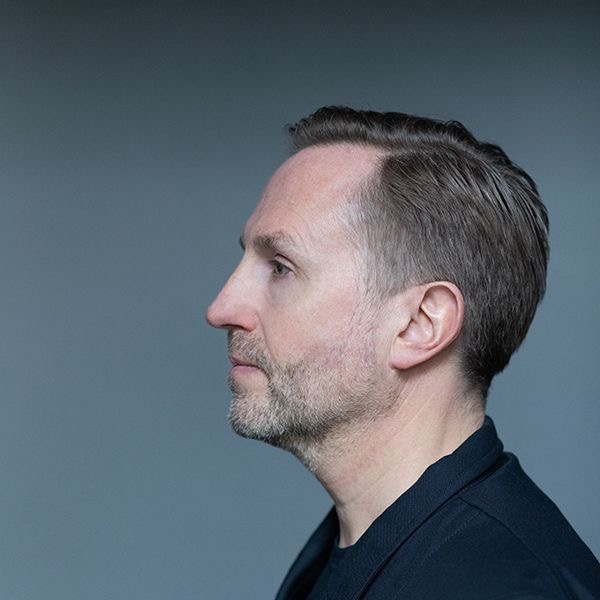 About Graham Sturt
Graham Sturt is Creative Director and Partner at D8, a strategic design and branding agency with studios in Amsterdam and Glasgow. During his career Graham has held roles at a number of leading international agencies, collecting numerous awards for his work. 
Graham is active in the creative community as an awards judge and collaborator, providing workshops and mentoring for emerging creative talent. 
A passionate advocate of Dutch design, he hosts an ongoing series of interviews with some of the countries greatest designers called 'Dutch Design Heroes'.