CDF: Looking for the perfect match
---
---
Droog, Staalstraat 7/A/B, 1011 JJ, Amsterdam
---
Photo: Diego PH (Unsplash)
We kindly invite you to join us at our next Creative Directors Forum which will take place on 11 October from 16:00 to 19:00 hrs in White Space @droog.
The Creative Directors Forum is held (live) twice a year for our BNO member agencies. The event aims to provide tools and facilitate knowledge exchange to help Creative Directors perform at their best in this role. This next edition is organised by Stefan Pangratz (Creative Director Mijksenaar) and Dewi van de Klomp (Project Manager BNO).
What to expect?
The main topic of the event is Looking for the perfect match. Speakers Lienke Raben & Nynke Haarsma (Clarify), Pieter Jongerius (Fabrique) and Lisa van Diemeren (Brum) will each give a talk on this topic covering the following questions:
Agency and client. How can we choose, align, and nurture this relationship? There are many facets to a long-lasting, creative, and successful relationship between an agency and its clients. What are the most important things to remember? Which signals do you have to pick up on?

Talent and agency. How to onboard, grow and keep talented employees? Finding the right talent at the right time is always a challenge and hard work. How do you recognize the perfect fit? And what is the best way to get aligned and challenged through the years?
Following the talks, Stefan Pangratz will host a discussion with the attending Creative Directors. This could be an interesting opportunity to exchange thoughts and to see how different agencies deal with similar challenges.
Programme
16:00 hrs. – Walk-in
16:30 hrs. – Talks & Discussion
18:00 hrs. – Next Topics?
18:15 hrs. – Drinks
19:00 hrs. – End
Speakers
Lienke Raben is a Creative Director at Clarify, a company specialized in information design. She joined the agency (named in60seconds at the time) over 8 years ago as a designer. Nowadays, she's responsible for overseeing the visual and conceptual quality. Part of this means hiring the right people, making sure they're challenged and can develop themselves and Clarify's portfolio. Her goal is to deliver products that are both beautiful and straightforward. She still loves to design herself as well, so Lienke's time is divided between conceptual and style development and setting creative goals for the company and coaching colleagues.
Nynke Haarsma is a Client Director at Clarify. Her growth is exemplary of the opportunities the company offers. Nynke joined the company 4.5 years ago as a project manager, became an account manager and subsequently a consultant. In January 2022, she joined the management team of the agency in her current role as Client Director. Nynke is responsible for the company's commercial goals, which are both qualitative and quantitative. She focuses on bringing in new clients and loves to create durable partnerships. With the everchanging needs of potential and existing clients, Nynke's first-hand knowledge helps her draft new propositions.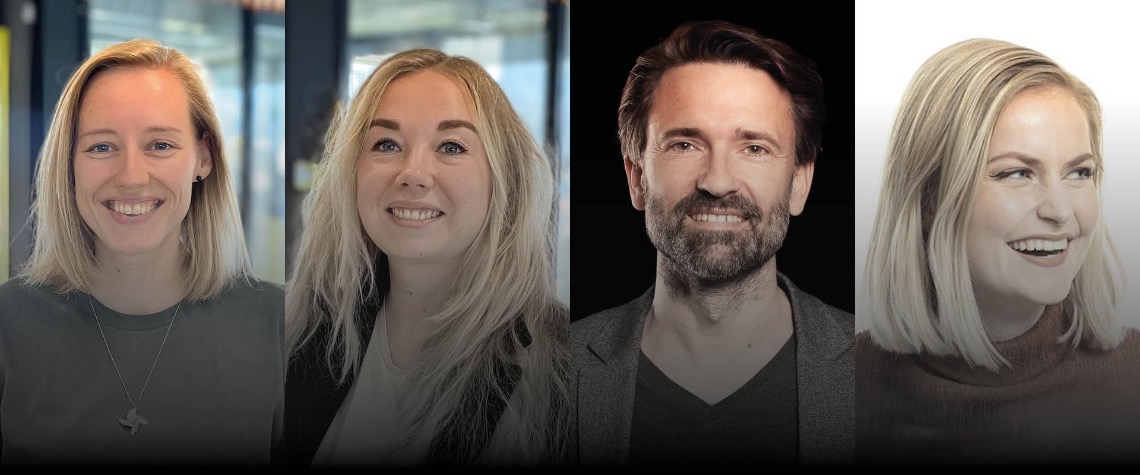 Photograph  (from left to right): Lienke Raben (Clarify), Nynke Haarsma (Clarify), Pieter Jongerius (Fabrique) and Lisa van Diemeren
Pieter Jongerius is partner and strategist at digital design agency Fabrique, and part-time teacher at TU Delft. He has been working with brands for over two decades with a clear focus on interaction, strategy and methodology. Within Fabrique he specializes in online retail and e-commerce and has designed award-winning work for Albert Heijn, Hema and IKEA, among others. Pieter is author of the internationally published scrum manual Get Agile, co-founder of Scrum Academy and a regular speaker at national and international events.
Lisa van Diemeren is Art Director & Design Mentor at Brum Design. As a graphic designer, Lisa got introduced to packaging design in 2011, a niche where two of her main interests, psychology and design, intersect. She has gathered over 8 years of brand and packaging design experience for clients such as Kruidvat, Lidl, Wochi Mochi, Schiphol and Histor. The empath and curious child in her likes to engage in understanding the brain of the consumer. Seeing other creatives stay inquisitive and excited inspires her and fuels her dedication to the creative mentorship of the talents within Brum.
Register
Please register for this event by sending an email to Dewi van de Klomp via the link below.